Transform Samsung mobile devices into Point of Sale (POS) machines with the Knox Platform for POS integrated with your POS application. Offer merchants a portable, yet highly secure POS service, all customized and developed with ease.
Key features
Knox Platform for POS provides a range of protection/usability features, enabling secure and contactless payment on Samsung devices.
Customizable UI
Serve customers better with a customized Pin Pad that fits your application and is secured with Trusted UI (TUI).
Attestation
Verify the integrity of your devices via Knox Attestation server, to ensure POS devices have not been rooted or are running unofficial firmware.
Encryption
With cryptography based in Trusted Execution Environment (TEE), all track data from your POS application is encrypted from end-to-end.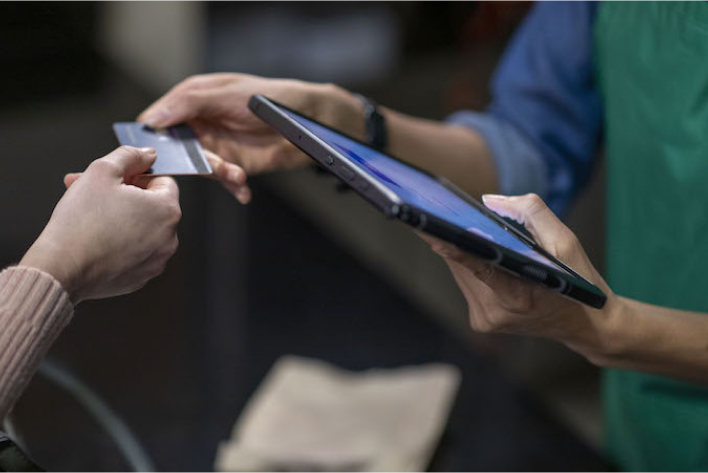 Why use Knox?
Easy
Save time and effort for development and certification with our SDK, which seamlessly enables your app's contactless payment on Samsung devices.
Inexpensive
Traditional POS systems require dedicated terminals and have high maintenance and accessory costs. With our SDK, your merchants just need a Samsung device with an embedded contactless reader.
Trusted
Leverage the Knox Platform for POS to meet the requirements of the latest payment industry standard.

How to integrate
The APIs provided by Knox Platform for POS allow you to transform Samsung devices into contactless payment terminals. Read our documents to start developing, and also see which of our devices are supported.
Partner with us
Apply
Sign up using your corporate email address and have your D-U-N-S number ready.
BECOME A PARTNER
Application review
Our team will review your application and respond promptly via email.
Use your new features
Once accepted, explore the features and benefits of the Knox Partner Program available from your dashboard.