Managed Service Providers
As a Managed Service Provider, get powerful and flexible management capabilities through Knox solutions and Samsung devices. Meet your customers' evolving business needs and add value to your service offering, increasing customer retention and satisfaction.
Whether you sell Samsung devices, Knox licenses, or simply manage devices without sale, Knox Partner Program is for you.
Make your offering more powerful with Knox
Knox solutions are designed to meet most mobile business setups, enabled with a unique, platform-level feature set only Samsung can offer
Easier, yet advanced device enrollment
Provide enhanced staging services with Knox Mobile Enrollment, which automatically enrolls devices to EMM – with advanced security options.
Powerful EMM features
With Knox Manage, provide a simple, convenient, and powerful management experience. Set OS version control with Knox E-FOTA.
Customize and safeguard devices in bulk
Provide remote, out-of-the-box setting and configuration via Knox Configure. Protect corporate devices and data with Knox Guard.
Device protection plan for enterprises
Protect your business devices against accidental damage and mechanical breakdowns with Samsung Care+ for Business.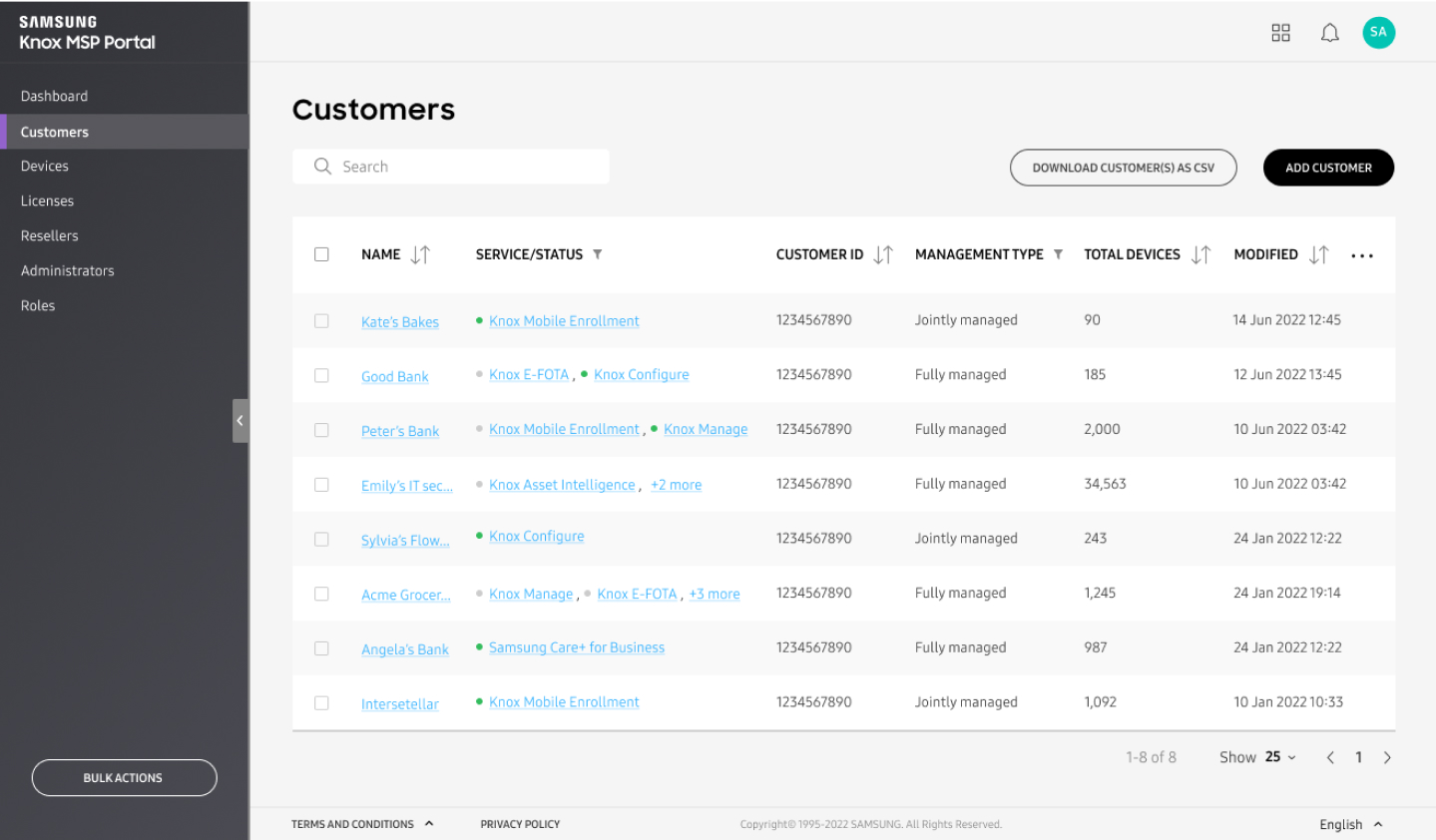 Single-pane-of-glass management
The Knox MSP Portal ensures efficient management of customers across all solutions
A bird's-eye view for all your customers
Onboard and manage multiple customers across Knox services at once. Manage and assign customer devices and licenses on their behalf.
Fully or jointly manage devices and services
Fully manage devices and services on behalf of customers or provide customers access to the Knox service portals for joint management.
Seamless ownership transition
Switch customers from fully-managed to jointly-managed and easily invite/disassociate customers. So you can step in and out for your business customers, based on their needs.
Make your business more effective
Become a partner today to gain the following benefits (some features are currently in beta and may not be fully supported)
Training and certification
Participate in the monthly webinar and with Samsung Business Academy courses, learn about Samsung devices and Knox solutions to gain official Samsung certification.
In-depth support
Get increased visibility for your support tickets as an MSP partner. Or get an in-depth support with Samsung Partner Technical Support.
Marketing materials
Make your marketing materials stand out. We're here to help, with all the assets to boost your Knox business right away.
More business opportunities
Have your company listed on the Reseller/MSP directory and promote your solutions on the Knox partner solution page to reach a wider audience.
Become a recommended partner
Are you an experienced MSP, comfortable with Samsung Knox?
For high-performing, proven Knox MSP partners with Knox training certificates and service/marketing capability, we want to honor your expertise by upgrading you to a 'Recommended' status.
Recommended MSPs will be highlighted on our Reseller/MSP directory, will be introduced to customers with higher priority, and be given access to more joint activities and benefits.
Availability
Resources
Samsung Partner Technical Support
For our reseller/MSP partners, Samsung provides direct and comprehensive support covering Knox solutions, OS versions, and Samsung devices. Enhance your service by providing seamless operations management to your business customers.
LEARN MORE
Partner with us
Apply
Sign up using your corporate email address and have your D-U-N-S number ready.
BECOME A PARTNER
Application review
Our team will review your application and respond promptly via email.
Use your new features
Once accepted, explore the features and benefits of the Knox Partner Program available from your dashboard.