Managed Service Providers
As a Managed Service Provider, get powerful and flexible management capabilities through Knox solutions and Samsung devices. Meet your customers' evolving business needs and add value to your service offering, increasing customer retention and satisfaction.
Whether you sell Samsung devices, Knox licenses, or simply manage devices without sale, Knox Partner Program is for you.
Make your offering more powerful with Knox
Knox solutions are designed to meet most mobile business setups, enabled with a unique, platform-level feature set only Samsung can offer
Easier, yet advanced device enrollment
Provide enhanced staging services with Knox Mobile Enrollment, which automatically enrolls devices to EMM – with advanced security options.
Powerful EMM features
With Knox Manage, provide a simple, convenient, and powerful management experience. Set OS version control with Knox E-FOTA.
Customize and safeguard devices in bulk
Provide remote, out-of-the-box setting and configuration via Knox Configure. Protect corporate devices and data with Knox Guard.
Device protection plan for enterprises
Protect your business devices against accidental damage and mechanical breakdowns with Samsung Care+ for Business.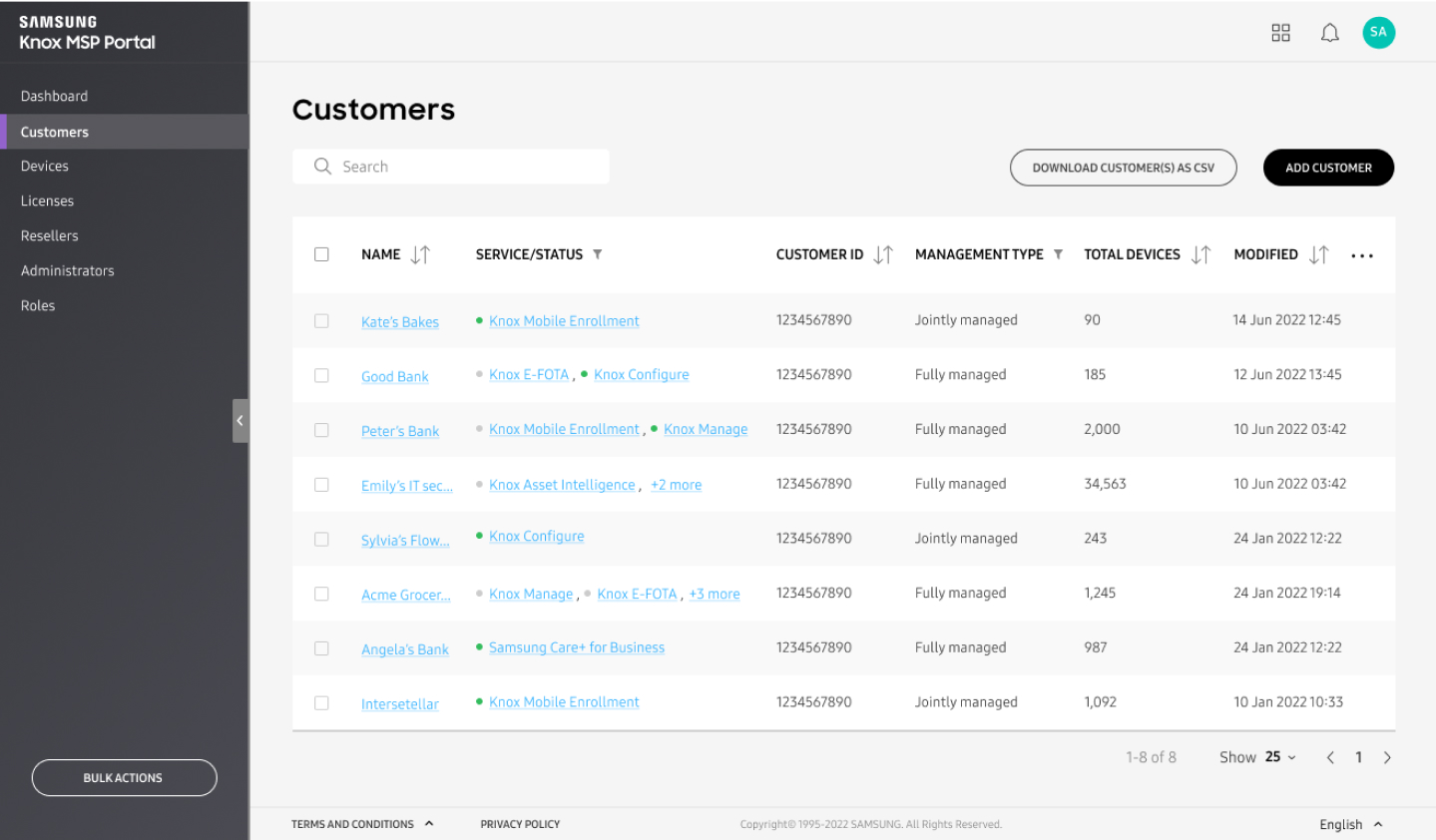 Single-pane-of-glass management
The Knox MSP Portal ensures efficient management of customers across all solutions
A bird's-eye view for all your customers
Onboard and manage multiple customers across Knox services at once. Manage and assign customer devices and licenses on their behalf.
Fully or jointly manage devices and services
Fully manage devices and services on behalf of customers or provide customers access to the Knox service portals for joint management.
Seamless ownership transition
Switch customers from fully-managed to jointly-managed and easily invite/disassociate customers. So you can step in and out for your business customers, based on their needs.
Make your business more effective
Become a partner today to gain the following benefits.
(Please note some features are subject to availability in your country)
Training and certification
Participate in the monthly webinar and with Samsung Business Academy courses, learn about Samsung devices and Knox solutions to gain official Samsung certification.
In-depth support
Get increased visibility for your support tickets as an MSP partner. Or get an in-depth support with Samsung Partner Technical Support.
Marketing materials
Make your marketing materials stand out. We're here to help, with all the assets to boost your Knox business right away.
More business opportunities
Have your company listed on the Reseller/MSP directory and promote your solutions on the Knox partner solution page to reach a wider audience.
Become a Recommended or Premium partner
Are you an experienced MSP, comfortable with Samsung Knox?
For high-performing, proven Knox MSP partners with Knox training certificates and service/marketing capability, we want to honor your expertise by upgrading you to a 'Recommended' or 'Premium' status.
Recommended or Premium MSPs will be highlighted on our Reseller/MSP directory, introduced to customers with higher priority, and given access to more joint activities and benefits.
Frequently Asked Questions
About Knox Partner Program for MSP program
What is the Knox Partner Program?
The Samsung Knox Partner Program aims to support B2B or B2B2C partners throughout the product lifecycle to help them create better solutions, and support sales and marketing activities to reach more customers and increase sales volumes.
Why has the Knox MSP Portal moved to the Knox Partner Program?
Being a partner-focused solution, the Knox MSP Portal has moved to the Knox Partner Program to enhance the offering Samsung is able to provide its MSP partners. As part of the Knox Partner Program, partners can benefit from dedicated MSP monthly webinars, marketing assets, sales support, product training, and more.
Is the Knox MSP Portal changing?
No, the functionality of the Knox MSP Portal remains the same. The only change is that partners now sign in to the Knox Partner Program instead of the Samsung Knox website to launch the Knox MSP Portal.
About joining the MSP program
How do I join the Knox Partner Program as an MSP?
To join the Knox Partner Program as an MSP, go to the Knox MSP website and click Become a Partner.
You will need:
Your work email address
A Samsung account. If you don't have one already, you can create one during signup.
A D-U-N-S Number
I don't have a D-U-N-S Number. What is it, and where do I get one?
The Dun & Bradstreet (D‑U‑N‑S) Number is a unique nine-digit identifier for businesses. It's used as the starting point for any company's Live Business Identity, the most comprehensive and continually updated view of any company in the Dun & Bradstreet Data Cloud.
To learn more about how to get a D-U-N-S Numbers, visit the Dun & Bradstreet website.
What are Partner tiers?
Part of the goal of the Knox Partner Program is to help our MSP partners differentiate their Knox managed service capabilities and quality whilst managing customers. Samsung Recommended MSPs is a shortlist of Knox managed service providers that meet Samsung's Knox managed service requirements, and have a proven track record of providing Knox managed services to medium-scale businesses. Samsung Premium MSPs are the top tier of Knox Partner Program for MSP, as they meet all of Samsung's strict requirements such as certified in-house Knox Experts and providing Knox services to large-scale businesses, with professional technical support capabilities backed by Samsung.
How do I upgrade tiers?
Tiers are determined by Samsung based on partner performance and are reviewed on a monthly basis. Partners may request a review of their tier status and receive guidance on how they can meet requirements for the next tier.
How long will my Recommended or Premium status be active?
All Recommended or Premium tier partners can enjoy their status until the end of the calendar year, after which a review is conducted to confirm each partner still meets the required criteria.
What happens during the annual review?
During the review, Samsung will check if the MSP meets the required criteria for their tier status. This criteria may include the number of registered customers, device activations and in-house Knox certifications the MSP has.
Availability
Resources
Samsung Partner Technical Support
For our reseller/MSP partners, Samsung provides direct and comprehensive support covering Knox solutions, OS versions, and Samsung devices. Enhance your service by providing seamless operations management to your business customers.
LEARN MORE
Partner with us
Apply
Sign up using your corporate email address and have your D-U-N-S number ready.
BECOME A PARTNER
Application review
Our team will review your application and respond promptly via email.
Use your new features
Once accepted, explore the features and benefits of the Knox Partner Program available from your dashboard.